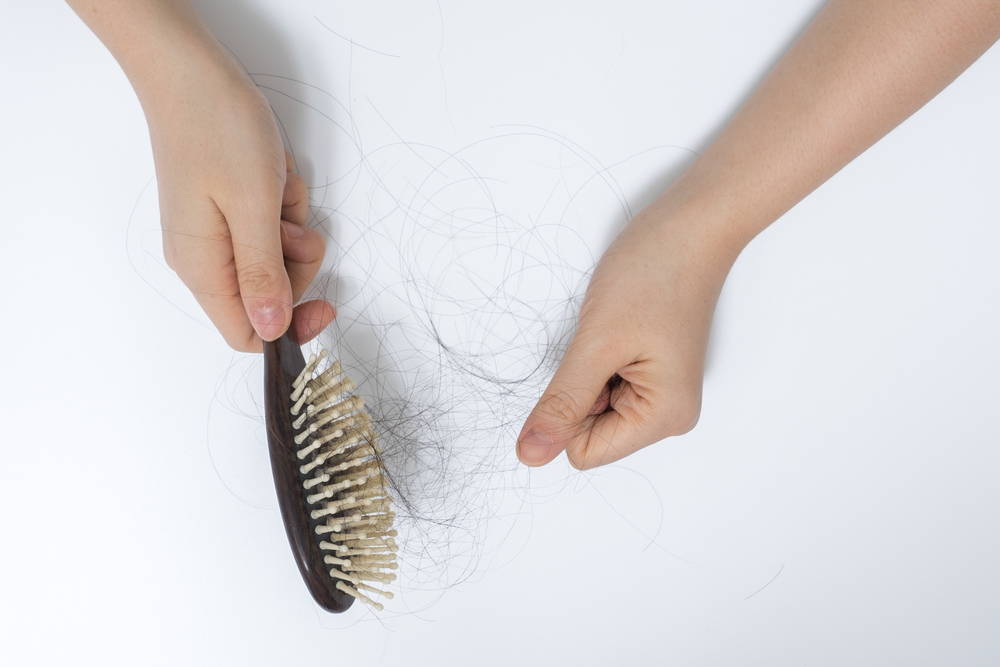 Hair loss while breastfeeding - what you can do about it!
Many mothers can be affected by hair loss during breastfeeding. Women are often convinced that the hair loss is related to breastfeeding because they had a full head of hair during pregnancy.
However, there is another reason why many women lose hair after giving birth to their baby. With our information, you can pinpoint the cause. We also explain what you can do about it.
What causes are possible?
Hormones can change during pregnancy, which increases estrogen levels. The mother-to-be can usually tell by her clear skin and shiny, full hair. Nails can also be strong and don't tear easily during pregnancy. The estrogen allows the hair follicle to continue growing: your hair would grow and have a longer lifespan.
After the birth of your child, the hormone balance can change again. Now the estrogen level can drop quickly and the hair follicles can enter the telogen (resting) phase. This can also be the beginning of hair loss. The technical term for hair thinning after pregnancy is postpartum effluvium.
Is my hair loss related to breastfeeding?
Stopping breastfeeding would not change the hair loss. Due to the increased estrogen levels during pregnancy, hair can appear fuller because you shed less hair. With the drop in estrogen after childbirth, the hair growth phase can shorten and you may lose more hair.
This means: Women who do not breastfeed also have to deal with increased hair loss after the birth of the child.
It is possible that you will lose a little more hair through breastfeeding. The body can ensure that your baby gets all the nutrients from breast milk. If you don't get enough nutrients such as iron or vitamins from your diet, this can lead to a deficiency. A nutrient deficiency can be one of the causes of hair loss.
Do I have to have my hair loss treated by a gynaecologist?
Hair loss usually lasts for a maximum of three to six months. Then the hormone balance can normalize and with it the hair growth. For some women, hormonal changes can take up to a year.
Note: If you have a lot of hair in the brush for a few weeks to months after combing and bald spots appear on your head, the hair loss can be caused by illness.
In the case of hair loss after pregnancy, the hair fibers are mainly visible on the central parting and on the temples. You don't have to worry about going bald, because the growth phase of the hair starts again when the hormone balance has been regulated again.
When should I go to the doctor?
You should see a doctor if you lose an excessive amount of hair, your skin looks pale and you suffer from constant tiredness. If so, your symptoms could indicate an iron deficiency, which can be determined by a blood test. Iron deficiency can be corrected with appropriate nutrients.
It is also possible that a skin disease, an infection or a thyroid disorder is the cause of the hair loss. In most cases, however, the problem is caused by hormonal changes.
What can I do for the beauty of the hair?
First, have your iron levels checked, because pregnant and breastfeeding women often have a deficiency. If there is an iron deficiency, you can compensate for it with dietary supplements.
Tip: Incidentally, diet can also lead to iron deficiency. Therefore, even during pregnancy, make sure that you eat a balanced diet and take in all the important nutrients and vitamins.
Otherwise you cannot prevent hormonal hair loss during breastfeeding.
More tips:
Avoid stress as much as possible, as stress can trigger excessive hair loss.

Eat a healthy and balanced diet with lots of fresh vegetables and fruit.

When caring for your hair, do without hairspray, straightening irons and a hairdryer.

Wear long hair loose instead of mechanically irritating it with hair ties and clips.

Stimulate blood circulation in the scalp with massage.

Use mild shampoos.
What to do if hair loss persists?
In rather rare cases, the hair loss goes beyond the breastfeeding period. Then you can use a treatment to stimulate hair growth. The method is called platelet-rich plasma (platelet-rich blood plasma) – PRP therapy for short. A concentrate is obtained with autologous blood, which is injected into the scalp, whereby the hair roots can be strengthened and built up.
However, it is important to know that some women only begin to lose their hair after they stop breastfeeding. Estrogen breaks down more slowly when breastfeeding, so some mothers don't experience hair loss at first.
"Three months after giving birth I had severe hair loss. Since I've been taking the capsules regularly, the hair loss has lessened. The hair grows stronger. I'm very grateful."

Sümeyra K. - verified buyer

"Three months after giving birth I had severe hair loss. Since I've been taking the capsules regularly, the hair loss has lessened. The hair grows stronger. I'm very grateful."
Sümeyra K. - verified buyer